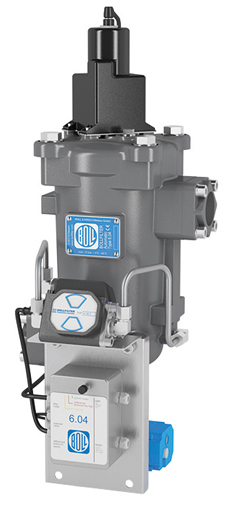 BOLLFILTER Automatic Type 6.04 Automatic filter for low flow volumes
Flange Connection
DN 40 / G 1 1/2
Filter element
Screw-in candles (stainless steel)
Grade of filtration
20 µm – 500 µm
Pressure stage
max. 16 bar
Filter housing
Aluminium, hard coated
Features
"Plug and Play" solution
Compact, robust and ready to use

New automatic filter for industrial water filtration
Speedy supply and simple installation, the all new "plug & play" Bollfilter Automatic type 6.04 is immediately operational out of the box. It is delivered with the electronic control unit pre-fitted with a cable tail for the power supply.
Bollfilter UK are your local specialists for Boll industrial water filtration products and can supply the 6.04 one week from receipt of an order.
Variable and adaptable this filter type offers the operator three key versions for use in water and wastewater treatment system, the machine tool industry and coolant systems for the automotive industry:
Version 1: with electronic control unit and electric backflush valve
Version 2: without electronic control unit, with pneumatic backflush valve
Version 3: without electronic control unit, without backflush valve.
Why the Bollfilter Automatic Type 6.04 is the ideal fit for your application
This filter ensures that the required level of industrial water filtration is maintained to ensure your systems are cleaner resulting in improved performance over a longer period.
By installing this filter you will reduce maintenance work considerably and the consequential time saving can substantially lower costs for your plant.
As a result of our high level of investment in 'series manufacturing' we are able to offer this precision engineered optimum performance industrial water filtration unit at a very competitive price and short lead time.
Multiple uses via the reversible flow filter concept
Robust and efficient, providing good value for money, the fully automated protective industrial water filtration from the all new Bollfilter Automatic Type 6.04 delivers exactly what you need.
Numerous industrial water and coolant filtration applications for machine and plant systems require spray or sprinkler nozzle protection. The high-performance, proven technologically advanced backflush filter concept reliably provides this.
The pre-cleaning of feed water enables protection of sensitive nozzles or valves against rapid blocking and unnecessary wear.
The proven, high-quality Bollfilters have remained a guarantee for reliability and precision in mechanical engineering for over six decades.
Filtration applications suited to the Bollfilter Automatic Type 6.04
Robust components make this filter design a lower cost option for today's industrial water filtration buyer or specifier, therefore suitable for many situations including these twelve applications:
Quench water nozzle protection at steel mills
Final effluent washwater at a sewage treatment works
Cooling lubricants for machine tools
Water screening on hospital mains supply
UV pre-screen for salad irrigation
Turbine sealing water for hydro power stations
Spray water at paper mills
Extruder cooling water at plastics manufacturing plant
Wash water for parts machining
Centralised domestic heating water in housing complex's
Industrial process water
Cooling water for HVAC applications
The new user friendly easily accessible Bollfilter Automatic Type 6.04
The filter is designed with a low number of components to guarantee easy access to the internal backwash unit with few wearing parts requiring minimal maintenance. All pressurised components, body and cover are manufactured from aluminium, all internal components from stainless steel and high-performance plastic.
Disassembly of the backwash unit is easily undertaken so enables simple efficient upkeep of the filter
The Bollfilter Automatic Type 6.04 is available with filtration fineness from 20 micron to 500 micron for flows up to18 m3/h.
Need something larger?
You may need our 6.18 option
High level of contamination?
You may need our heavy duty option 6.18.2
Bollfilter UK supply BOLL & KIRCH products to Great Britain and Ireland
The BOLLFILTER automatic Type 6.04 is characterised by high technological quality, meeting the requirements of liquid/solids separation filtration. High technical quality with low capital layout with low operating costs makes the BOLLFILTER automatic Type 6.04 a sensible investment for the long term protection of your machine and plant systems.