Lube Oil Filter
Filter for marine engines
Find here why an effective lubricating oil filtration is essential for the protection of marine engines and what filter systems are suitable for this purpose.
Function of pure lubricating oil
Lubricating oil is of decisive importance for the functionality of a ship's engine. It forms a separation film between adjacent moving parts in order to prevent direct contact between them, to reduce friction heat and wear.
One of the most important characteristics of the lubricant is its viscosity. This must be sufficiently high in order to retain the film of lubricating oil and sufficiently low in order to enable the oil to flow within the engine.
How contamination occurs
During operation of the engine, the characteristics of the oil change. Particles of soot accrue in the combustion process, as well as small particles of metal, caused by mechanical friction. This contamination increases the viscosity of the oil which, thereby, can no longer fulfil its protective function completely. The consequences are, amongst others:
increased fuel consumption
drop in performance of the engine
as well as increased wear and damage to the components of the engine
Oil filter for the lube oil care
In order to exclude these risks, effective filtration of the lubricating oil and care of the lubricant is essential. However, so that the engine can also be continuously protected, the use of lubricating oil care is essential. This oil care includes efficient filters that retain dirt particles, as well as from separators or centrifuges, discharge the particles of contamination from the lubricating oil. Thereby, retention of the quality of the oil, as well as protection of the engine is the focal point.
Extensions and improvements are also possible in numerous existing filter systems. Because BOLLFILTER consequently retain dirt particles and protect the consumer.
Thus, they continuously assist the operating reliability of the engine and in the long-term. That saves resources, protects the environment and reduces the costs of the operating company in the medium to long-term.
You are Interested in one of our filter systems? We will gladly submit you an individual, non-binding offer – simply contact us.
In addition to our filter solutions for ships and large boats, see also industrial filters for the filtration of oil, water and lubricants.
Automatic Filter
BOLLFILTER Automatic Type 6.48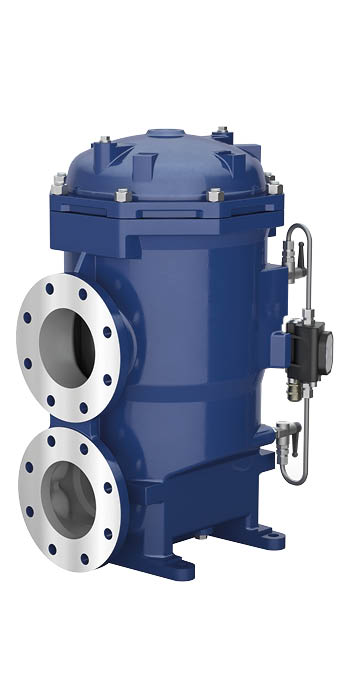 Flange Connection

DN 40 - DN 300

Filter element

wire-mesh candles

Grade of filtration

10 µm to 48 µm
more information
BOLLFILTER Automatic Type 6.64
Flange Connection

DN 100 - DN 400

Filter element

wire-mesh candles (optional made of stainless steel with smooth surface)

Grade of filtration

6 µm - 150µm
more information
Duplex Filter
BOLLFILTER Duplex Typ 2.05.5
Flange Connection

DN 100 - DN 250

Switch-over

cock valve

Filter element

basket element, ring element, filter candle insert, multi-mantle element
more information
BOLLFILTER Duplex Type BFD
Flange Connection

DN 25 - DN 150

Switch-over

ball valve

Filter element

candle or basket element
more information
Simplex Filter