WVI-Wärmeversorgung Ismaning
Protection of heat exchangers and pumps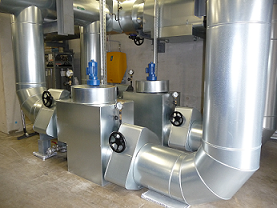 Distance heating at WVI-Wärmeversorgung Ismaning
WVI-Wärme versorgung Ismaning GmbH & Co. KG was founded in 2011 and belongs to the municipality of Ismaning nearby Munich, Germany.
Distance heating – also known as district heating – is a collective urban heating system. District heating replaces the old individual boilers typically found in the basement of buildings as part of a heating distribution system. Today, it can also produce cooling solutions - for air conditioning systems, for example - thanks to absorption machines. In the future, the district heating facilities will be set up to use renewable energy. By employing scalable technology, district heating is not dependent on single energy source; it can be created through an energy mix comprising natural gas, incineration of household waste, solar power, geot hermal energy or even biomass (wood, vegetable oils, biogas).
Filtration as protection of the long distance system
For this application a BOLLFILTER Automatic Type 6.18 is the ideal way to protect heat exchangers, house transfer stations, pumps, long distance pipes and the complete system from potential blocking or damage from solids. The district heating system is a closed circuit and separated from the thermal water via heat exchangers.
BOLLFILTER protects the system against the solids from the pipelines (down to 50µm) which will be automatically removed. The decision was taken to install two BOLLFILTER Automatic Type 6.18 DN 250 at an operational pressure of 8 bar and a capacity of 385m3/hour. The defined grade of filtration is 80 micron.
The water quality has improved substantially due to the performance of the BOLLFILTER Automatic Type 6.18, which has significantly reduced the contamination in the system. The thermal output has increased and therefore improved the operability and regeneration of the system. Installing a BOLLFILTER Automatic for solid removal extended the lifetime of the system.
---
---
Download/s
---